Mojdeh Shayestehfar D.D.S.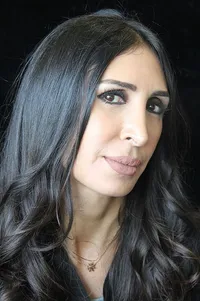 A Note from Dr. Mojdeh Shayestehfar
My name is Mojdeh Shayestehfar, but my patients know me as Dr. Shay. With more than twenty years of experience practicing dentistry, I still look forward to going to work every single day! I am grateful for the patients who have trusted me as their clinician and shared their lives with me. I feel extremely fortunate to have a career as a cosmetic dentist in Beverly Hills where I am able to connect in such meaningful ways with such a diverse group of people. Visiting the dentist should be a pleasant experience. It is my goal to make it so! In addition to helping you achieve optimum oral health, my goal is to make you feel happy and at ease whenever you visit my prosthodontics practice in Los Angeles. When you enter my office, I want you to feel as comfortable and welcome as a guest in my home. While many doctors view their patients as simply "clients," I view each of my patients as a member of my Linden Dental family. It is my privilege to provide you, my patients, with the very best oral healthcare. At the end of the day, when you smile brightly, so do I!
biography
Dr. Mojdeh Shayestehfar is a UCLA-trained prosthodontist, who specializes in advanced cosmetic dentistry, implant dentistry, crowns and bridges, removable partial dentures, complete dentures, and implant-supported removable partials and dentures, as well as full mouth reconstruction. After graduating from the UCLA School of Dentistry with several major honors, including the Robert Wolcott Operative Dentistry Award, Senior Select Award, and Removable Prosthetic Award, Dr. Shayestehfar continued her education by attending one year of Hospital Dentistry Residency at West Los Angeles Veteran Hospital and then returned to UCLA to complete a three-year post-doctoral fellowship in Prosthodontics.
As an Assistant Clinical Attending at UCLA, Dr. Shayestehfar was actively involved in teaching numerous aspects of dentistry for six years. Her teaching included Advanced General Dentistry Residency, Operative Dentistry, Removable Dentistry, Fixed Restorative Dentistry, Dental Board Preparation courses, Extended Function Registered Dental Assistant courses, and Bench Preparation courses for foreign dentists.
Dr. Shayestehfar is a member of the Spear Study Club and AAFE (American Academy of Facial Esthetics). She has devoted part of her business to anti-aging and rejuvenation. At the present, Dr. Shayestehfar is committed to her private practice and her family.